Last week, I had my orientation and first day of library school classes. Monday marked day two and in honor of those who have already returned to school and those who are eagerly or not so eagerly awaiting its approaching post-Labor Day arrival, I've collected and assembled a few of my favorite retakes on a classic lunchbox sandwich, peanut butter and jelly.
PB&J dominates as a schoolyard favorite. Firstly it's delicious and secondly it provides substantial fuel to keep a person satiated for a ridiculous length of time. Peanut butter, in my mind at least, is the perfect food: a hefty, non-animal protein that omnivores and vegetarians can both enjoy as well as a chameleon ingredient that can convert from sweet to savory recipes effortlessly. Despite the the unearthly duel of peanut butter and nutella and the pleasing bulk of peanut butter and banana, peanut butter and jelly remains the steadfast champion in the contest of peanut butter sandwiches. Jelly, jam, preserves or whatever similar manifestation provides a cool and downright refreshing balance to the occasional choking thickness of the peanut butter.
I'm not going to even bother delving into the battle between crunchy and creamy…
When I spent my semester abroad in Bath though, I remember meeting quite a few locals who hated peanut butter and shuddered at the thought of mingling peanut butter with jelly. Is that a common distaste among the British? I mean, I was pretty skeptical about prawn sandwiches. After I sampled some of the peanut butter offered, I felt disappointed. The British brands, I recall, tasted much drier and saltier by comparison. My memory is fuzzy, but I think some of the American brands like Jif were available at sum I wasn't willing to spend regularly since I wanted to squirrel away most of my money for travel. I overcompensated by eating a few too many jars of Nutella.
In any case, here are the goods:
When I first spied the apple sandwich, I mentally slapped myself for not envisioning such a simple yet inventive replacement for bread. The only trouble I predict here is the filling shooting out after biting into the firm apple slices. Guess I'll have to test it out for myself.
On a similar note,
The stuffed apple is another rendition that's possible only if you own an apple corer. Or if you're very skilled with a knife maybe. Food Network categorizes this recipe as breakfast but I maintain it would work equally well for lunch. They recommend filling it – aside from peanut butter, obviously – with granola, though raisins and chocolate chips and/or jam would be tasty.
Like Food Network, Carrie Murphy of HelloGiggles labels the apple nachos as a dessert or appetizer. For those of us with a highly-developed sweet tooth (ME!), this would act as great lunch entree. If you wished to make it less dessert-inclined, I'd swap the chocolate chips for raisins or another dried fruit. Additionally, toasted coconut along with any variety of jam, to stick with the PB&J theme since the nachos deviate somewhat, or flavored syrup would fit nicely into the mix. Even crushed pretzels could add a salty-sweet twang.
For an easy twist, try the sandwich hot. A grilled PB&J would warm up an empty belly on a blustery winter day after a few rounds of sledding. My fingers are crossed for mounds of snow this year. I'd pair the sandwich with a mug of cocoa loaded with marshmallows.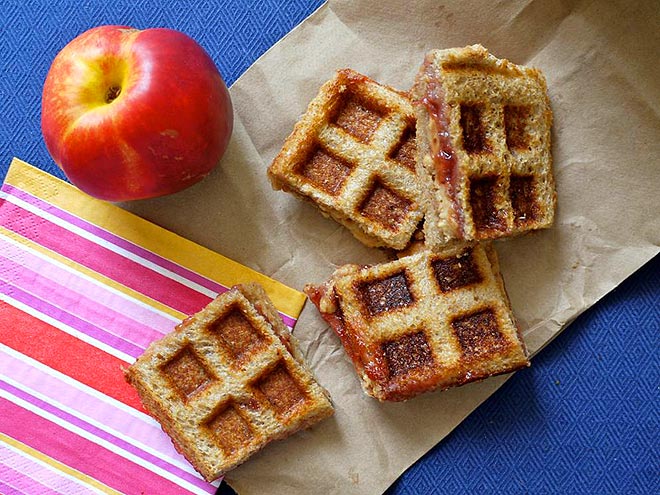 Here's another spin-off on grilled PB&J. The clever implementation of a waffle iron imprints the finished product with a neat texture.
Yeah, it's kind of goofy, but it's also a whole lot of fun. PB&J sushi and other playful PB sushi variants revise sushi for those whose tastes and appetites still linger around ages five through eight.
In terms of flavor, there's basically no alteration with this take on PB&J, however I appreciate the innovation of presentation. Although, I wonder how well it would endure under the duress of transportation since the structure looks less than hearty.
Strawberry remains my jam of choice when slapping together a quick PB&J. So I bet that sliced strawberries would taste refreshing and render a lighter, less sugar-ladden substitution. The recipe in the bottom picture features roasted strawberries. Since I've tried them out a handful of times, I can vouch they make a wonderful topping.
PB&J pizza?! Genius! This ranks an automatic placement on my recipe to-do list. That list of mine is getting mighty long… Verging on endless really. But that hypnotizing spiderweb of glossy peanut butter and jelly draws me in like the defenseless fool I am.
Technically, the compost wafflewiches don't incorporate jelly though that could be remedied by exchanging ingredients. Yet I believe the subtle honey in this instance would outshine the standard jelly. A heavier coat of jelly would likely overwhelm and obscure the remaining components.
Most of the sandwiches dreamed up by The Nutropolitan Museum of Art, sponsored by Peanut Butter & Co., aren't plausible for real world execution but it's fun to admire their whimsy and impracticality. Some of highlights:
Then again, if you don't want to fuss with a classic, you could always follow Ruth Reichl's steps for the perfect PB&J. It'll certainly hit the spot.